You are here :
Home » Insights »
You could say there are at least 5,320 reasons for institution investors to enter the luxury apartment market in Ho Chi Minh City.
That's because high-end apartments in the Vietnamese city reached a new average price high of US$5,320 per sq.m. in Q3 2019, an increase of 64.9% year-on-year, according to JLL.
Large overseas investors are shifting capital into the luxury residence market through partnerships with local developers like SonKim Land to capitalise on the country's robust real estate conditions and its strong economy.
Vietnam is one of the fastest growing economies in the world, growing almost 7% year-on-year during the first nine months of 2019 in what was a nine-year high.
SonKim Land, which specialises in luxury residential, office and hospitality projects, raised US$121m from a consortium of investors led by Hong Kong-based EXS Capital, Japanese fund manager ACA Investments and Credit Suisse's Singapore branch earlier this year.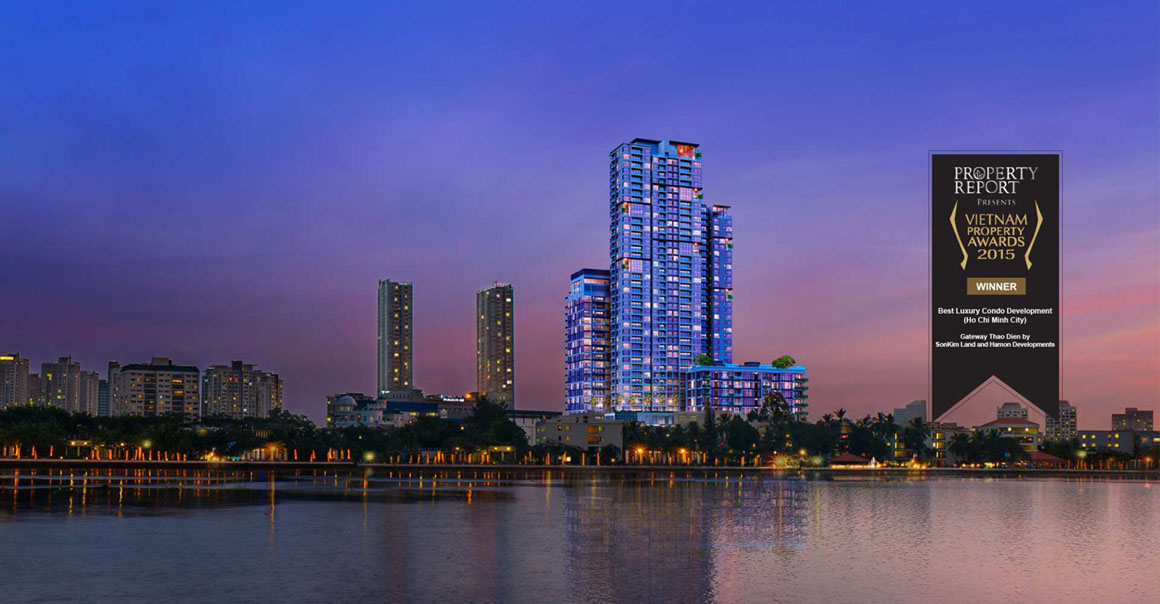 Gateway Thao Dien complex (source: SonKim Land)
The fresh funding will support the company's growth, as it looks to take on larger-scale projects across the country, SonKim Land CEO Andy Han Suk Jung told APAC Real Estate.
The firm has grown rapidly since teaming up with EXS Capital in 2013, taking on luxury projects such as the Metropole Thu Thiem, Serenity Sky Villas and the Gateway Thao Dien.
The company plans to use the new capital to continue growing its development pipeline, spanning luxury residential, commercial and hospitality projects across Vietnam.
Cathy Huang, director of financial management at EXS Capital, said the country's robust economic growth and its young population were key drivers for international capital.
ACA Investments partner Hiroyuki Ono added that there were more opportunities to take on larger scale projects in Vietnam compared to other markets like Japan, allowing investors to pour more capital into projects and reap greater returns.
The appetite for Vietnamese property comes as local developers have become more willing to work with foreign investors amid a "sluggish IPO market and continued tight property lending environment," according to CBRE.
This year's US$121m fundraising round comes after its initial US$37m capital raising in 2013 and an additional US$46m raised in 2016.
EXS has invested in all three fundraising rounds via its Lemongrass Master fund, while ACA has participated in the two most recent rounds.
The view from Metropole Thu Thiem (source: SonKim Land)
The latest round also attracted commitments from Swiss investment giant Credit Suisse, which is one of the most active global financial institutions in Vietnam, and Asia-based investment manager Skymont Capital.
SonKim Land isn't the only player in the HCMC's luxury apartment space, with competition from other developers such as Novaland, CapitaLand and Vingroup.
While large investors clearly back the luxury resi story, JLL forewarned in Q3 2019 that the high-end unit sector may experience a slowdown in demand, as rising sale prices dampen buyer demand.
The broker added that investors, who made up the largest source of demand for high-end units, had started to shift their investments into villas and townhouses for greater capital gains.
That said, there are other factors at play that may change the segment's fortunes.
Vietnam has established itself as a manufacturing and logistics hotspot in Southeast Asia, bringing new companies and their workforces to the country, ACA's Ono noted.
The country's processing and manufacturing sector attracted the most foreign direct investment during the first nine months of the year, recording over US$18bn and accounting for 69% of total capital.
Serenity Sky Villas (source: SonKim Land)
The country is certain to benefit from the US-China trade war too, as companies redirect their supply chains away from China towards lower-cost Southeast Asian countries.
On the tourism front, international visitors to Vietnam rose 10.8% to 12.9m during the year to September, led by tourists from China, South Korea and Japan.
And while rising prices may end up putting off some buyers, ultimately it's about the bigger picture.
Huang, of EXS Capital, said luxury property in HCMC and other Vietnamese markets remained relatively cheap compared to other Asian markets like Hong Kong and Singapore – a factor that is sure to keep it on buyers' radars for some time to come.
Cover image: Metropole Thu Thiem (source: SonKim Land)